I really love the way A Beka teaches phonics using blends and special sounds. We have used this for 6 kids so far and really love it. We use Saxon Math starting at grade 1 and continue all the way to Calculus.
3rd Grade
Math 3 - Saxon
Language 3 - Abeka
(workbook only)
Spelling Power
- we start spelling in this year. If I have a struggling reader I will put it off until 4th grade.
Read and Think 3 - Abeka
- We use these short timed reading to check comprehension. These resemble the ones on an SAT test so I think it's good to practice this kind of timed reading.
Doors to Discovery
(reading book only)- Christian Light Education
Nature Readers - Christian Liberty Pres
s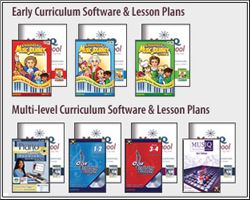 Piano
- Children's Music Journey
This program runs on a computer and hooks up to a keyboard. We are only on level 2, but my kids are enjoying it. It's a little spendy, however, I will be putting 3 or 4 kids on this. It's cheaper than sending them for lessons (which seems silly anyway since I play the piano!). But they don't like lessons from me. I am hoping this will give them the basics and then I will take over the teaching.
Update: One child has finished all 3 levels and is finding it easy to start Alfred's Basic piano course.